PG 1/60 GN-0000+GNR-010 00 Raiser
Brand: BANDAI
Product Code: 4543112610164
Availability: In Stock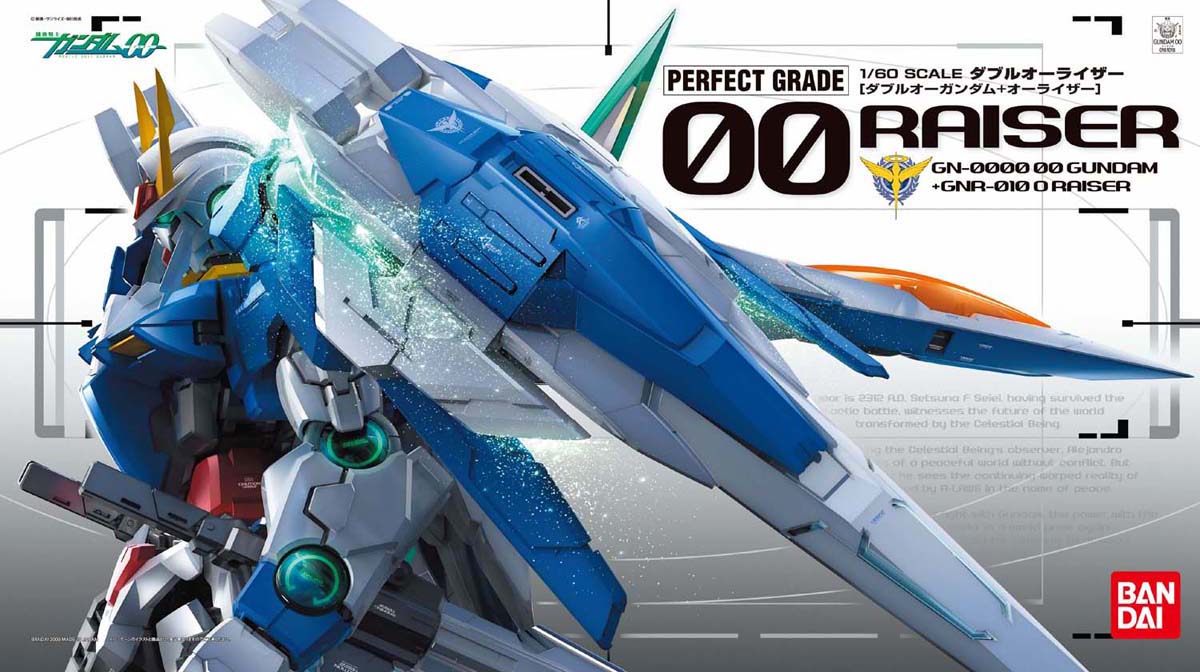 The GN-0000 00 Gundam is the successor unit to the GN-001 Gundam Exia. The "00" (pronounced Double-O) possesses many of the previous generation's standard features, including the GN-Drive and Trans-AM System, but also introduces the revolutionary Twin Drive System, a cutting-edge GN technology originally conceived by Aeolia Schenberg himself. The system uses two GN-Drives with compatible GN-particle production as the basis for the system's operation. With their productive synergy, the amount of particles the two drives can produce is squared. The utilization of synchronized GN-Drives can create awesome power, some of which defies common sense. Ultimately 00 Gundam's technical complications couldn't be corrected without the addition of new equipment. The solution(s) to 00 Gundam's Trans-Am system came in the form of energy stabilizer equipment, built onto the 0-Raiser. The 00 was finally completed at Lagrange 3 when the GNR-010 0-Raiser was combined with the 00 to form the 00-Raiser.
Even though Setsuna didn't have the 0-Raiser at first, that doesn't mean you can't! This kit includes both separate units that can of course be combined to form the 00-Raiser. With specially-made joints to hold the weight, you can pose this model in any way you want to display its awesome power!
OO Raiser enters the PG series, the top model series of Gunpla.
The two GN drives are pre-assembled, and can light up and spin on the shoulders.
Shoulders, elbows, wrists, and knees have GN condensers which include clutch gimmicks. This new mechanism helps to hold the large and heavy arms firmly.
Detail of the inner skeleton is completely produced with updated interpretation.
Legs' swinging structures expand the movability.
Includes 4kinds of weapons which are newly added to OO Raiser.
Fully equipped with all sorts of weapons.
Contents: 58 Runners, 1 Foil sticker sheet, 1 Tetronic sticker sheet, 1 Gundam decal, 1 Hologram sticker sheet, Instruction manual, 2 GN drives (completed/sample batteries are included), 1 LED Unit (for head parts), 2 Batteries for LED Unit (LR 41)
Please Note: Product in the photos shown has been professionally painted. Color swatches are for informational purpose only and may differ from the actual mechandise. Color on your screen are affected by monitor setting and browser.
Write a review
Note:

HTML is not translated!